Private Event/Invite only.
Ragbag Jamboree is a 3 day Boutique Camping Festival, hidden away amongst the beautiful backdrop of the South Downs countryside. Situated near Brighton, East Sussex.

Date: 13th-15th July 2012. (Leave Monday if you wish)
Contact ragbagjamboree@gmail.com for details.
Sorry but we will have to say No to Doggies.

Licensed Bar/ 2 Marquees / Great Sound system / Lasers, Lights & Smoke / Evening Bonfire / Toilets & Shower.
Fancy Dress 'Saturday Night'  THEME - 'Doppelgängers!'
If you've ever been told you look like someone famous, it's your chance to be them for the night. Kids can come as their favourite characters. 
BBQ Shack Catering for Saturday Afternoon… Payment up front. Menu TBC
Jay Raynor Review: Click Here

And for the little people…
AJ KIDS ENTERTAINER**PARTY GAMES**BUBBLES FUN**BALLOON MODELING**DANCE COMPS**KIDS DISCO**MAGIC SHOW**BOUNCY CASTLE**JUNGLE FUN RUN**YOGA BUGS**FACE PAINTING**CIRCUS SKILLS**ICE CREAM VAN**EVENING GLOWSTICKS** BEDTIME STORIES WITH MAXINE**
Plus
Scanone - AV - Cinematic Set.
Perhaps best known for his work with Combat Recordings and as label boss of Yellow Machines, Jude Greenaway aka Scanone is a London-based producer, DJ and Audio visual artist who has been producing, performing and releasing music for well over a decade. In that time he has managed to develop a sound that skirts around the lunatic fringes of a myriad of underground genres, from bass-heavy electronics to glitched-up cinematic IDM. For this performance he will be showcasing some fresh new material from his forthcoming DVD compilation and new unheard cinematic audio visual works.
'Something Else Tea Tent' Teas, Coffee's and delicious cakes

LATE NIGHT CINEMA - Showing some cool movies through the night.


Charity Auction and Raffle - (Auction donations welcome)

We have also got the 'Massage Yoga House' who will be supplying their services Saturday and Sunday to help make your weekend as chilled as possible.
http://www.massageyogahouse.com/
Market Stalls.
W.I. Charity cake sale.
Fashion Accessories Stall. 
Airbrushed Tattoos. 
If you have a Stall idea or you just want to get involved in Rag Bag Jamboree please get in touch!
Don't forget to join the facebook group!!
http://www.facebook.com/groups/ragbagjamboree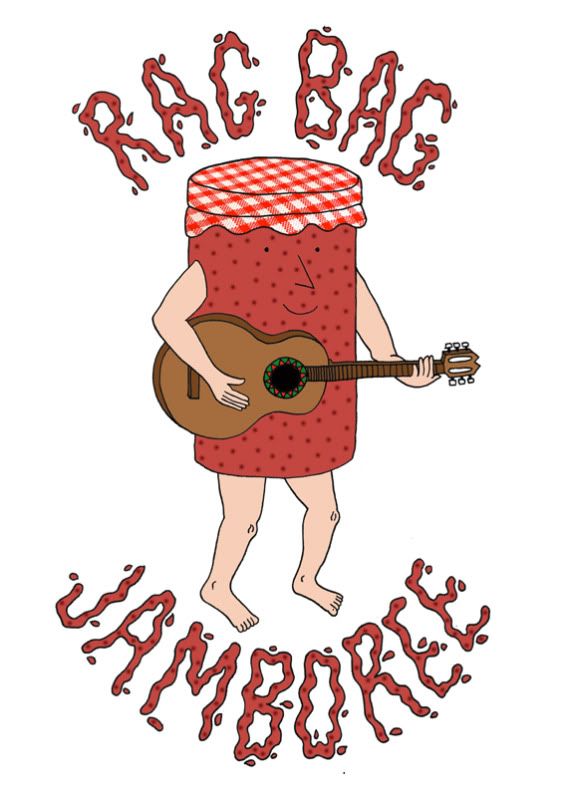 Picture by Manu Grinon